What we offer:

A Transformative Data Security Platform
Built on Next-Gen Decentralized Architecture

Start Securing Now - It's Free
SIGN UP

Sign up to the Developer Hub today and get access to all the resources to get you using our API. We have FREE FOREVER levels that enable you to not just try but use Circle APIs and see for yourself how they transform your Access and Data cybersecurity strategy from "Detect and Respond" to "Prevent and Eliminate".
Our approach to Threat Prevention consists of two major components
Threat prevention by securing access

Decentralized and credential free MFA for authenticating user across systems
Zero trust principles with continuous authentication and verification enabling digital trust
Strict governance policies with customizability for business friendly implementation
Our Implementation Strategy
Deploy as stand-alone capabilities or as a comprehensive solution to deliver uncompromising access and data security

Deployable at both developer and enterprise level
Easy onboarding and frictionless integration with multiple systems
Fast implementation with API based integration
Access protection through authenticator app - more secure than SMS based authentication
Flexibility of integration at multiple levels of security policies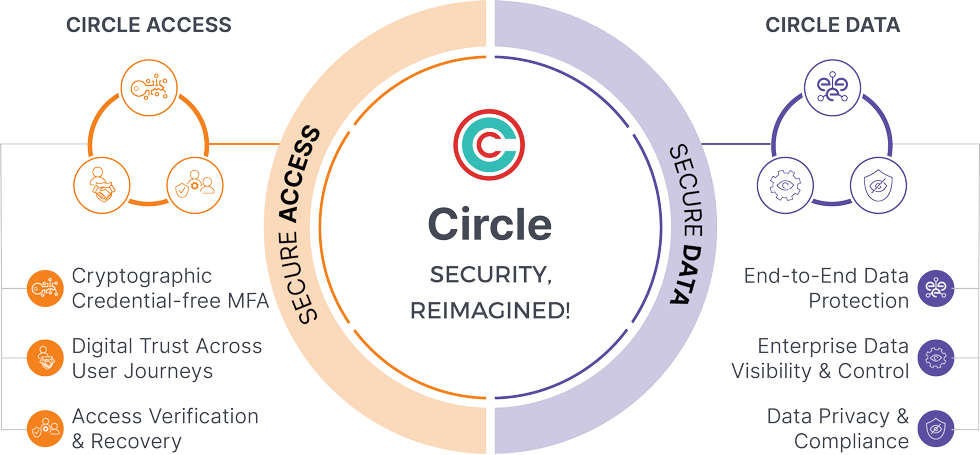 Dual Integration Options
Two easy ways to rapidly integrate Circle APIs with low code / no code for both web and device native applications
REST APIs

Easy & Rapid REST implementation

Download of thin Circle footprint

Libraries/SDKs
Inline & Embedded Implementation
Fully Integrated with your Application Workflows
Start Securing Now

Deploy a Frictionless UX that Users Will Love and Use
Circle Access
Circle Access provides 3 flexible UX options for unphishable, frictionless MFA, all cryptographically enforced.
No passwords to forget, lose or be stolen
No codes or extra steps
No reset requests to the IT desk.
Circle Data
Everyone knows that encryption is critical to data protection and loss prevention. But it's usually far too complicated and painful for users. Circle's paradigm shifting architecture makes makes it built in, invisible and available flexibly on demand according to the use use case, user context or data permission as set in your policies engines.